Sign-up for Stevie Nicks news updates from Warner Brothers Records:


Visit the Online Store for Stevie Nicks Merchandise.
The In Your Dreams Documentary DVD is out now and you can get it at Amazon or on the Barnes & Noble site.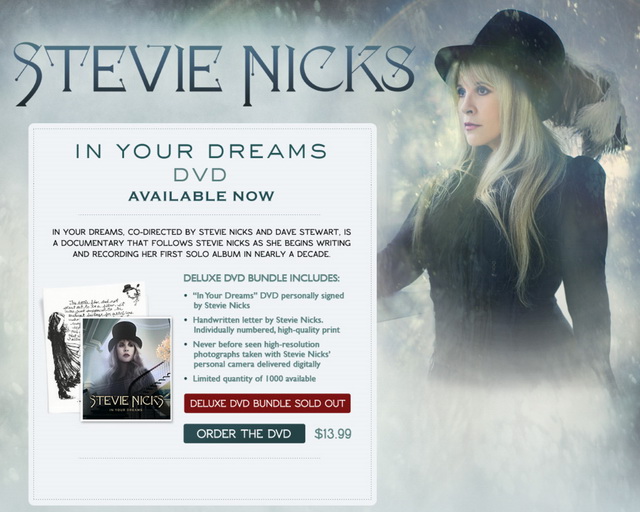 Stevie's DVD Signing
Stevie greeted fans and signed DVD copies of her In Your Dreams documentary on December 4 a at the Barnes & Noble store at the Grove in Los Angeles. Thanks to all of you who came to see Stevie. She is very proud of her documentary and was happy with the positive input from the many fans who attended.
Read a fan review of the signing.
Stevie on American Horror Story: Coven
Stevie is due to appear on the FX series "American Horror Story: Coven", says series creator Ryan Murphy. Read the article from USA Today.
---
FLEETWOOD MAC CANCELS AUSTRALIAN/NEW ZEALAND TOUR
Fleetwood Mac who has just completed the European leg of their phenomenally successful worldwide tour has announced the cancellation of their upcoming 14 date tour of Australia and New Zealand.
John McVie, one of the co founding and original members of Fleetwood Mac is now scheduled to be in treatment for cancer during that period of time.
"We are sorry to not be able to play these Australian and New Zealand dates. We hope our Australian and New Zealand fans as well as Fleetwood Mac fans everywhere will join us in wishing John and his family all the best." Ticket refunds will be available to all ticket holders as from Monday, October 28.
For all tickets booked online or by phone, the refund will be refunded automatically to the credit card used in purchasing the tickets. Please allow up to 10 days to receive your refund.
If the original credit card you used for the purchase has been cancelled or is no longer valid please contact the place of purchase.
If you made your booking at an outlet please return to the original outlet where the tickets were purchased with your ticket(s) and with the credit card used to make the purchase in hand in order to obtain your refund. Refunds will be provided to the original purchaser only on presentation of photo ID.
---
European Tour Ends!
Fleetwood Mac wraps up the European leg of their tour on October 26th in Amsterdam at the Ziggo Dome.

If you attend a show and want to send a fan review, send it to reviews@nicksfix.com

Read articles/reviews of the European shows:
aftenposten - Oslo Review
GQ UK - article about Fleetwood Mac
The Herald Scotland - interview with Stevie
KSTE.de - Review of Cologne, Germany show in Lanxess Arena (Dutch)
Manchester Evening News - review of the Manchester Arena show
UK's Daily Mail - Christime joins band

---
American Horror Story
In the latest episode of American Horror Story, Misty Day, played by actress Lily Rabe, returned as the witch who is obsessed with Stevie Nicks. Stevie's Edge of Seventeen and Rhiannon were played in the second episode. Read interviews with Lily Rabe about the show and the Stevie attraction on InsideTV.com and Vulture.com.
---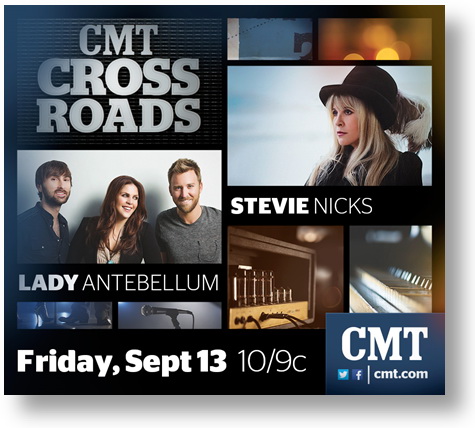 CMT Crossroads: Stevie Nicks and Lady Antebellum
Stevie Nicks joined country superstars Lady Antebellum onstage when CMT presented this new episode of CMT Crossroads. Stevie and Lady Antebellum performed together on songs such as Stevie's "Landslide," "Rhiannon," "Edge of 17," "Stop Draggin' My Heart Around," and a variety of Lady Antebellum's hits. The show premiered Friday, September 13 but you can watch the full episode online on the CMT website.
Read articles about the Crossroads episode:
tasteofcountry.com
Reality TV Magazine
countrymusiclove.com
tvguide.com
CS Monitor
kpopstars
Zap2it
---
"Stevie Nicks: In Your Dreams" Download - Free Bonus Scenes
The "In Your Dreams" film documentary is available for digital download. The film is being released after a recent successful theatrical run where it received rave reviews by the fans across the U.S. and Canada. You can download "In Your Dreams" instantly and get two previously-unreleased exclusive scenes with purchase only at www.inyourdreamsmovie.com.
The film is also available for instant download at Amazon in Regular or HD Video.
Fleetwood Mac show in Vegas
Fleetwood Mac will perform at the MGM Grand Garden Arena in Las Vegas on December 30, 2013. Tickets are available at Ticketmaster.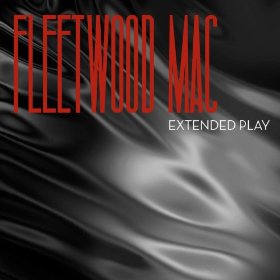 New Fleetwood Mac Songs Released
Fleetwood Mac has released 4 new songs on a downloadable set titled Extended Play. The set includes Lindsey's "Sad Angel" and Stevie's "Without You" which are being played on the tour, plus two other songs, "It takes Time" and "Miss Fantasy". The songs are available on iTunes and Amazon. The songs can be downloaded individually or as a set. Reviews of the new songs: Rolling Stone
The Oakland Press

Fleetwood Mac - Vintage Releases
Fleetwood Mac's third album, "Then Play On", will be released in a deluxe, remastered edition on Reprise Records. The new release will contain 18 songs, which includes the songs released on the various UK and US versions of "Then Play On" in 1969. It will be released on August 19th in the UK and August 20th in the US. In addition, a Vinyl Boxed set titled "FLEETWOOD MAC: 1969-1972" will be released at the same time. The boxed set includes four of the band's classic albums, Then Play On (1969), Kiln House (1970), Future Games (1971) and Bare Trees (1972), each reproduced on 140-gram vinyl. As a bonus, the set comes with an exclusive replica of the original 1969 7-inch single of "Oh Well – Pt. 1" b/w "Oh Well – Pt. 2." The two releases will be available for pre-order in stores in the US and UK. For more details and track listings, see the article on the Rhino website.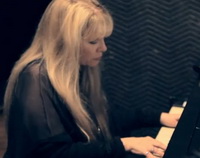 Exclusive Video Clip from "In Your Dreams"
See the new video clip from Stevie's "In Your Dreams" documentary, created exclusively for the Nicks Fix.

See the official Trailer for the "In Your Dreams" documentary.
"In Your Dreams" documentary came to theaters on April 2nd
Following the tremendous positive response to the Stevie Nicks documentary "In Your Dreams", this up close portrayal of Nicks recording her critically acclaimed "In Your Dreams" CD in collaboration with Dave Stewart was shown in over 50 theaters across North America on April 2nd. Stevie fans filled the theaters to get a chance to see it on the big screen. See the press release for more information. The movie poster is below.
Reviews/articles of the film:
- Montreal Gazette
- Somethingelse Reviews
- The Star Phoenix
- BlogTo.com
- The Star - Review
- IRPress - short Article
- Ottawa Citizen
- Now Toronto - Review

---
SXSW Conference & Festivals
Dave Grohl performed at South By Southwest with the Sound City Players, a band comprised of some of the artists who appear in his recently-released Sound City documentary. The concert took place on March 14 at Stubb's in Austin, Texas and accompanying Dave was be Stevie Nicks, John Fogerty, Rick Nielsen and others. See more details on the SXSW website.

Stevie gave a SXSW Interview in the Austin Convention Center at 5 PM on Thursday, March 14. You can read the interview on NPR.com. See more details on the SXSW Music page.

Articles/Reviews:
Sun Times review
---
Relix Magazine
Stevie is on the cover with Dave Grohl in the new edition of Relix Magazine. See the article on the Relix Website.

Oprah's Master Class
Stevie was the special guest on Oprah's Master Class on March 24th. You can watch videos of portions of the show on Oprah's Master Class website.

Stevie at Fantasy Springs
Stevie performed a concert on Saturday, March 2, 2013, at the Fantasy Springs Resort Casino Special Events Center in Indio, CA. This was the final show of her In Your Dreams tour. Stevie ended the show with a beautiful version of Love Is. You can read fan reviews of the show and can read the press reviews and articles about the show below:

- Hollywood Today
- Press-Enterprise
- Inland Social


ET Interview
There is an ET Online video interview with Stevie, Lindsey and Mick. Stevie talks about the band getting back together and also about the influence of her mom's passing on the band. See the video on the ETOnline site.
---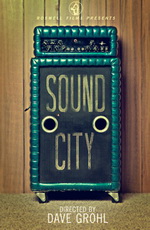 Sound City Movie
Sound City has now been released to the public. See details below on how to get the movie. The film features Stevie along with a host of great musicians who recorded at the legendary Sound City. See the official movie trailer, the movie's Facebook Page or the Official Movie Site.

Details on the release:

Digital Version for Sale/Rent as of Feb. 1 Buy DRM free download direct from the filmmaker
Rent or Buy from iTunes
Rent from Amazon
Buy from Amazon

Limited Theatrical Run – North America, AUS/NZ
ONE NIGHT ONLY showings begin 1/31, Regular runs begin Feb. 1 – list of theaters

Video On Demand: Available globally as of Feb. 1

DVD/Blu-Ray: Available March 12 on Amazon

Album : available March 12 Amazon (Audio CD)
Amazon (Vinyl)

Website: soundcitymovie.com
Twitter: @soundcitymovie
Facebook: /soundcitymovie
YouTube: /soundcitymovie

Read articles/reviews about Sound City:
- Best of New Orleans
- Rolling Stone Hollywood Reporter
- Hollywood Reporter
- Film Threat
- Daily Telegraph
- Interview with Rolling Stone
- 100% "liked it" on Rotten Tomatoes
- Rolling Stone
- Digital Spy
- RTT News


Sundance Film Festival
On Friday, January 18th, Stevie joined Dave Grohl and his Sound City Players at the Sundance Film Festival, among others, in honor of the documentary about the legendary Sound City recording studios in Los Angeles.
Stevie on Sound City Soundtrack
The soundtrack to Dave Grohl's documentary about Sound City will feature Stevie along with other great musicians participating in jam sessions at Sound City. You can see the list of musicians and songs on the Sound City site. The soundtrack is available for pre-order from Amazon. The Sound City - Real to Reel soundtrack is due out March 12 via Roswell Records.
---
CMT Crossroads
Stevie will join Lady Antebellum on a new episode of CMT Crossroads to be taped later this year. Read the article from CMT News.
More articles about Crossroads:
Rolling Stone
Nashville.com
Country Weekly

Interview in The Guardian
There is an interview with Stevie in the January 12th issue of The Guardian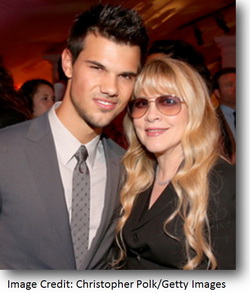 Stevie Attends Twilight Premiere
Stevie attended the world film premiere of The Twilight Saga: Breaking Dawn - Part 2 in Los Angeles on November 11th. You can read/hear her comments about the film in the articles below:
- The Insider (includes video)
- Entertainment Weekly
- Huffington Post
- NME.com
The Strand
Stevie performed a concert on October 27th to benefit the renovation of The Strand Theater. The benefit included a dinner with some of San Francisco's top chefs. See the newspaper ad for the benefit.
Stevie at Elton John's Gala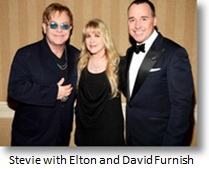 Stevie was the headliner at the Elton John's AIDS Foundation Gala in New York City. VIP guests helped raise $2 million for Elton's AIDS Foundation. Read articles about the event:
- Rolling Stone
- Vanity Fair
- Contactmusic.com
---
In Your Dreams Documentary
Stevie's In Your Dreams Documentary Premiered on October 7, 2012 at the Hamptons International Film Festival.
The second screening for the In Your Dreams Documentary took place Oct 12 at the Mill Valley Film Festival.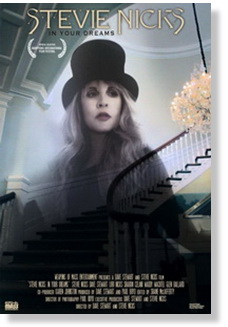 Stevie sings at Hamptons Film Festival
Stevie was on hand at the Hamptons International Film Festival where she answered questions from the crowd and sang medley of a few songs, including Bella Donna. Fans came to this sold out premiere screening of Stevie's new documentary In Your Dreams. An additional screening will take place at the Mill Valley Film Festival on October 12.
Read articles about the Documentary Screenings:
- Long Island Newsday
- WFJA
- NewsDay
- Hamptons.com
- South Beach Patch
- Danshamptons.com
- 27East
- press release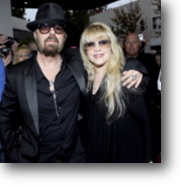 Mill Valley Film Festival
Stevie and Dave Stewart were present at the October 12th screening of the In Your Dreams Documentary at the Mill Valley Film Festival. You can see photos at Getty Images.
Interview about IYD Documentary
Read the October 4th interview from the Huffington Post about the premiere of the In Your Dreams documentary.
---
Charity Auction
Grammy Charity Online Auctions is auctioning off a framed magazine autographed by Stevie to benefit the Grammy Foundation and Music Cares Foundation. The Music & Musicians Magazine, dated May 2011, features Stevie Nicks on the cover. The item is up for bid on eBay. See more datails and bid on it at the auction page on eBay. Mojo Magazine
Fleetwood Mac is featured in the January 2013 issue of Mojo Magazine with a cover photo of Rumours. The magazine includes a Rumours tribute CD. See the cover at the Mojo Website. Sunset Sessions in Vegas
Stevie will be performing at Sunset Sessions Vegas 2012, where artists will perform to raise money for their favorite charities. See more details about the event.

Songwriters Hall of Fame
Stevie, Lindsey and Chritsine have all been nominated to the 2013 Songwriters Hall of Fame. Read the AP article about the nominations.

Stevie attends Premiere of Zeppelin Film
Stevie attended the promotion of the Led Zeppelin concert film "Celebration Day". The film had its United States premiere on October 9th at the Ziegfeld Theater in New York. Read the New York Times article.

RE/MAX Convention
Stevie was the featured artist at the 40th Anniversary RE/MAX R4 Party with a Purpose, February 28th, 2013 at the MGM Arena in Las Vegas. More details on the RE/MAX Facebook site.

Us Weekly
The US Weekly website has an article and video which discuss Stevie being one of music's biggest style pioneers. See the article and video.

Elton John Foundation Benefit
Stevie headlined the Elton John's AIDS Foundation's 11th annual An Enduring Vision benefit show in New York City on October 15. See the RTT News site for an article about the event and visit ejaf.org for more details and ticket info.

Soldier's Angel
If you attended one of Stevie's concerts this summer you probably saw a list of organizations which support our injured military personnal and listened to Stevie's story just before she sang Soldier's Angel. Stevie feels strongly about helping our wounded servicemen and servicewomen, and we lists these links for those who wish to help as well.
- uso.org
- walterreedsociety.org
- woundedwarriorproject.org/

If you haven't heard Soldier's Angel, you can download the single or buy the album at the links below:
Soldiers Angel - single
In Your Dreams -album
---