Sign-up for Stevie Nicks news updates from Warner Brothers Records:


Visit the Online Store for Stevie Nicks Merchandise.
Download the "In Your Dreams" documentary!
"Stevie Nicks: In Your Dreams" Download Available
The "In Your Dreams" film documentary is available for digital download exclusively at iTunes on May 14th. The film is being released after a recent successful theatrical run where it received rave reviews by the fans across the US and Canada. You can purchase it on the iTunes order page.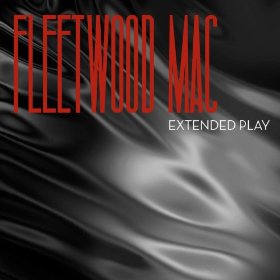 New Fleetwood Mac Songs Released
Fleetwood Mac has released 4 new songs on a downloadable set titled Extended Play. The set includes Lindsey's "Sad Angel" and Stevie's "Without You" which are being played on the tour, plus two other songs, "It takes Time" and "Miss Fantasy". The songs are available on iTunes and Amazon. The songs can be downloaded individually or as a set. You can read a review of the set from Rolling Stone. The Fleetwood Mac tour is underway!!
The Fleetwood Mac tour started April 4th in Columbus, OH at Nationwide Arena. See the rest of the tour dates on the Tour Dates page. You can also read the fan reviews of the shows. The opening night set list is below:

Opening Night Set List
Second Hand News
The Chain
Dreams
Sad Angel
Rhiannon
Not That Funny
Tusk
Sisters of the Moon
Sara
Big Love
Landslide
Never Going Back Again
Without You
Gypsy
Eyes of the World
Gold Dust Woman
I'm So Afraid
Stand Back
Go Your Own Way

Encore:
World Turning
Don't Stop
Silver Springs

Encore 2:
Say Goodbye

If you attend a show and want to send a fan review, you can send it to reviews@nicksfix.com.

Read Fan Reviews

Read other reviews/articles about the tour:

Star Phoenix - Review of the Saskatoon show
Calgary Herald - Review of the Calgary show
Edmonton Journal - Ten Year old Rumour
Edmonton Journal - Review of the Edmonton show
Vancouver Sun - Reivew of the Vancouver show
Winnipeg Free Press - Review of the Winnipeg show
Twincities.com - review of St. Paul show
Star Tribune - review of St. Paul show
Rolling Stone - review of Jazz Fest
USA Today - review of Jazz Fest
The Times-Picayune - review of Jazz Fest
Something Else Reviews - interview with Stevie
Baxter Bulletin - review of Little Rock show
Tulsa World - review of Tulsa show
News OK - Review of Tulsa show
BWW Music News
Ottawa Citizen - review of the Ottawa show
Pocono Record - NY review
Boston Globe - review of the Boston show
Louisville.com - review of the Louisville show
Toronto Star - review of Toronto show
The Republican - review of Mohegan Sun show
NorthJersey.com - article about Newark show
Chicago Tribune - Review of Chicago show
CBS Local 1-1.9 Lite FM - Review of the DC show
Washington Post - Review of DC show
Tulsa World
Huffington Post - Chicago Review
Chicago Sun Times - Article
NY Daily News - NY MSG Review
NY Times - NY MSG Review
Newsday - NY MSG Review
NY Post - NY MSG Review
Something Else Reviews - Review of Sad Angel
Associated Press - Interview
USA Today - Review
The Washington Free Beacon - DC Review
PhillyBurbs - Philly Review
Philly.com - Philly Review
STV Entertainment - Interview with Stevie, Mick and Lindsey
Examiner - Columbus review
Columbus Diapatch - Columbus review

---
Birthday Greeting
Stevie's Birthday is May 26. You can send her a greeting below.
Send Stevie your Birthday Greetings
Please be patient. It may take a few minutes for your greeting to be submitted.
If your browser has problems with this form, send your greeting to greetings@rockalittle.com.
---
Led Zeppelin: Sound And Fury
Stevie wrote the intro to the new illustrated digital book by famed photographer Neal Preston titled Led Zeppelin: Sound and Fury. The book features hundreds of Zeppelin photos that have never been seen before as only Neil can capture them. Stevie Nicks fans likely know Neil from his many photos of Stevie, including the one used in the main logo on this page. You can find out more details and get the ebook on itunes. See a clip of Stevie's intro.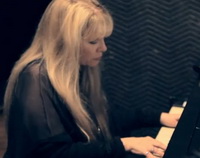 Exclusive Video Clip from "In Your Dreams"
See the new video clip from Stevie's "In Your Dreams" documentary, created exclusively for the Nicks Fix.

See the official Trailer for the "In Your Dreams" documentary.
Autographed Poster Contest
Thanks to everyone who entered the contest to win one of the autographed "In Your Dreams" movie posters from the documentary. The winners of the contest are:
Amy W. of Edgewater, NJ
Aaron A. of Peoria, AZ
Chris P. of Boston, MA Winners will receive their posters shortly.
"In Your Dreams" documentary came to theaters on April 2nd
Following the tremendous positive response to the Stevie Nicks documentary "In Your Dreams", this up close portrayal of Nicks recording her critically acclaimed "In Your Dreams" CD in collaboration with Dave Stewart was shown in over 50 theaters across North America on April 2nd. Stevie fans filled the theaters to get a chance to see it on the big screen. See the press release for more information. The movie poster is below.
Reviews/articles of the film:
- Somethingelse Reviews
- The Star Phoenix
- BlogTo.com
- The Star - Review
- IRPress - short Article
- Ottawa Citizen
- Now Toronto - Review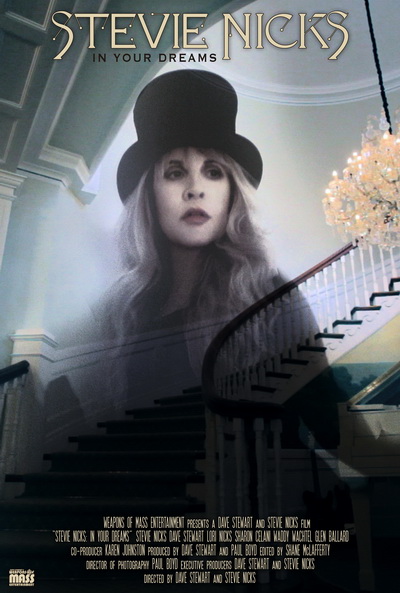 Movie Poster (click for enlargement)
---
SXSW Conference & Festivals
Dave Grohl performed at South By Southwest with the Sound City Players, a band comprised of some of the artists who appear in his recently-released Sound City documentary. The concert took place on March 14 at Stubb's in Austin, Texas and accompanying Dave was be Stevie Nicks, John Fogerty, Rick Nielsen and others. See more details on the SXSW website.

Stevie gave a SXSW Interview in the Austin Convention Center at 5 PM on Thursday, March 14. You can read the interview on NPR.com. See more details on the SXSW Music page.

Articles/Reviews:
Sun Times review
---
Relix Magazine
Stevie is on the cover with Dave Grohl in the new edition of Relix Magazine. See the article on the Relix Website.

Oprah's Master Class
Stevie was the special guest on Oprah's Master Class on March 24th. You can watch videos of portions of the show on Oprah's Master Class website.

Stevie at Fantasy Springs
Stevie performed a concert on Saturday, March 2, 2013, at the Fantasy Springs Resort Casino Special Events Center in Indio, CA. This was the final show of her In Your Dreams tour. Stevie ended the show with a beautiful version of Love Is. You can read fan reviews of the show and can read the press reviews and articles about the show below:

- Hollywood Today
- Press-Enterprise
- Inland Social


ET Interview
There is an ET Online video interview with Stevie, Lindsey and Mick. Stevie talks about the band getting back together and also about the influence of her mom's passing on the band. See the video on the ETOnline site.

Fleetwood Mac Tour
Fleetwood Mac's 2013 tour is in progress which includes cities across the US, Canada and Europe. The Fleetwood Mac Live 2013 tour began on April 4, 2013 in Columbus Ohio. The new tour marks the 35th anniversary of the release of Rumours. To coincide with the tour and anniversary, a new deluxe reissue of Rumours, with previously unreleased studio and live tracks, will be released in early 2013 from Rhino. Look for the band to record some new music as well. Stevie told Billboard that the group has recorded three songs for release before the band hits the road April 4. Read the official announcement. See the tourdates below.

Fleetwood Mac Live 2013 Tour Dates:
4/4/13 Columbus, OH - Nationwide Arena
4/6/13 Philadelphia, PA - Wells Fargo Center
4/8/13 New York, New York - Madison Square Garden
4/9/13 Washington, DC - Verizon Center
4/11/13 Louisville, KY - KFC Yum! Center
4/13/13 Chicago, IL - United Center
4/16/13 Toronto, ON - The Air Canada Centre
4/18/13 Boston, MA - TD Garden
4/20/13 Uncasville, CT - Mohegan Sun Arena
4/23/13 Ottawa, ON - Scotiabank Place
4/24/13 Newark, NJ - Prudential Center
4/26/13 Pittsburgh, PA - CONSOL Energy Center
4/28/13 St. Paul, MN - Xcel Center
4/30/13 Kansas City, MO - Sprint Center
5/1/13 Tulsa, OK - BOK Center
5/3/13 Little Rock, Ark - Verizon Arena
5/4/13 New Orleans Jazz Fest - Lousiana Heritage Fair
5/12/13 Winnipeg, MB - MTS Centre
5/14/13 Saskatoon, SK - Credit Union Centre
5/15/13 Edmonton, AB - Rexall Place
5/17/13 Calgary, AB - Scotiabank Saddledome
5/19/13 Vancouver, BC - Rogers Arena
5/20/13 Tacoma, WA - Tacoma Dome
5/22/13 San Jose, CA - HP Pavilion at San Jose
5/25/13 Los Angeles, CA - Hollywood Bowl
5/26/13 Las Vegas, NV - MGM Grand Arena
5/28/13 Anaheim, CA - Honda Center
5/30/13 Phoenix, AZ - US Airways Center
6/1/13 Denver, CO - Pepsi Center
6/4/13 Dallas, TX - American Airlines Center
6/5/13 Houston, TX - Toyota Center
6/7/13 Tampa, FL - Tampa Bay Times Forum
6/8/13 Ft. Lauderdale, FL - BB&T Center
6/10/13 Atlanta, GA - Philips Arena
6/12/13 Detroit, MI - Joe Louis Arena

06/14/2013 Rosemont, IL - Allstate Arena
06/15/2013 Cleveland, OH - Quicken Loans Arena
06/18/2013 Montreal, QC - Canada Bell Center
06/19/2013 Albany, NY - Times Union Center
06/21/2013 Mansfield, MA - Comcast Center
06/22/2013 Wantagh, NY - Nikon at Jones Beach
06/24/2013 Charlotte, NC - Time Warner Cable Arena
06/26/2013 Des Moines, IA - Wells Fargo Arena
06/29/2013 Spokane, WA - Spokane Arena
06/30/2013 Portland, OR - Rose Garden
07/03/2013 Los Angeles, CA - Staples Center
07/05/2013 San Diego, CA - Viejas Arena @ San Diego State
07/06/2013 Sacramento, CA - Sleep Train Arena

European Tour Dates
09/20/2013 Dublin, Ireland - O2 Dublin
09/24/2013 London, UK - O2 Arena
09/25/2013 London, UK - O2 Arena
09/27/2013 London, UK - O2 Arena
09/29/2013 Birmingham, UK - LG Arena
10/01/2013 Manchester, UK - Manchester Arena
10/03/2013 Glasgow, UK - The Hydro
10/06/2013 Cologne, Germany - Lanxess Arena
10/07/2013 Amsterdam, Netherlands - Ziggo Dome
10/09/2013 Antwerp, Belgium - Sport Palais
10/13/2013 Oct Zurich, Switzerland - Hallenstadion
10/14/2013 Oct Stuttgart, Germany - Schleyer Halle
10/16/2013 Berlin, Germany - O2 World
10/18/2013 Herning, Denmark Jyske Bank Boxen
10/20/2013 Oslo, Norway Spektrum
10/23/2013 Stockholm, Sweden Globen
10/26/2013 Amsterdam, Netherlands- Ziggo Dome


See Ticketmaster for ticket info on US shows.

Articles about the Upcoming Fleetwood Mac Tour:
- PR Web - Ticket Sales
- UK Mirror - Ticket sales
- Elmore Magazine - Fleetwood Mac will premier new songs on tour
- Mirror UK - European tour date info
- The Guardian - Interview with Stevie
- Sky News in Australia - Nicks promises revitalised Fleetwood Mac
- ABC News Radio - Stevie talks about the 2013 tour
- Yahoo Music Canada - Stevie and Lindsey talk about the tour
- ABC News - Stevie talks about the tour
- Entertainment Weekly - Interview with Stevie
- Detroit News
- Rolling Stone - Dec 5
- Billboard - Dec 4
- Examiner - Dec 4
- Star Pulse - Dec 4
- Miami NewTimes - Dec 4
- Ultimate Classic Rock - Dec 5
- Jersey Evening Post - Dec 5

---
Jazz Fest
Fleetwood Mac will be one of the headliners at the 10 day 2013 New Orleans Jazz and Heritage Festival. Fleetwood Mac will perform on May 4th. See the Jazz Fest website for more details and ticket info.
---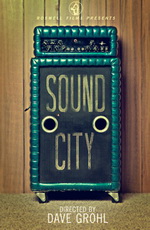 Sound City Movie
Sound City has now been released to the public. See details below on how to get the movie. The film features Stevie along with a host of great musicians who recorded at the legendary Sound City. See the official movie trailer, the movie's Facebook Page or the Official Movie Site.

Details on the release:

Digital Version for Sale/Rent as of Feb. 1 Buy DRM free download direct from the filmmaker
Rent or Buy from iTunes
Rent from Amazon
Buy from Amazon

Limited Theatrical Run – North America, AUS/NZ
ONE NIGHT ONLY showings begin 1/31, Regular runs begin Feb. 1 – list of theaters

Video On Demand: Available globally as of Feb. 1

DVD/Blu-Ray: Available March 12 on Amazon

Album : available March 12 Amazon (Audio CD)
Amazon (Vinyl)

Website: soundcitymovie.com
Twitter: @soundcitymovie
Facebook: /soundcitymovie
YouTube: /soundcitymovie

Read articles/reviews about Sound City:
- Best of New Orleans
- Rolling Stone Hollywood Reporter
- Hollywood Reporter
- Film Threat
- Daily Telegraph
- Interview with Rolling Stone
- 100% "liked it" on Rotten Tomatoes
- Rolling Stone
- Digital Spy
- RTT News


Sundance Film Festival
On Friday, January 18th, Stevie joined Dave Grohl and his Sound City Players at the Sundance Film Festival, among others, in honor of the documentary about the legendary Sound City recording studios in Los Angeles.
Stevie on Sound City Soundtrack
The soundtrack to Dave Grohl's documentary about Sound City will feature Stevie along with other great musicians participating in jam sessions at Sound City. You can see the list of musicians and songs on the Sound City site. The soundtrack is available for pre-order from Amazon. The Sound City - Real to Reel soundtrack is due out March 12 via Roswell Records.
---
CMT Crossroads
Stevie will join Lady Antebellum on a new episode of CMT Crossroads to be taped later this year. Read the article from CMT News.
More articles about Crossroads:
Rolling Stone
Nashville.com
Country Weekly

Interview in The Guardian
There is an interview with Stevie in the January 12th issue of The Guardian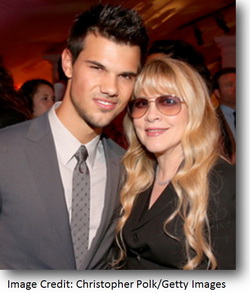 Stevie Attends Twilight Premiere
Stevie attended the world film premiere of The Twilight Saga: Breaking Dawn - Part 2 in Los Angeles on November 11th. You can read/hear her comments about the film in the articles below:
- The Insider (includes video)
- Entertainment Weekly
- Huffington Post
- NME.com
Fleetwood Mac Rehearsals
Fleetwood Mac is planning to get together for a 2013 tour. Stevie told ABC News that Fleetwood Mac rehearsals may start around February. Read articles about the tour:
- Music News
- KYGL Eagle 106.3
- Uncut
- RTT News
- Belfast Telegraph
- Antimusic
- Aria Charts
- Vintagevinylnews.com
- Mirror
- Contact Music

The Strand
Stevie performed a concert on October 27th to benefit the renovation of The Strand Theater. The benefit included a dinner with some of San Francisco's top chefs. See the newspaper ad for the benefit.
Stevie at Elton John's Gala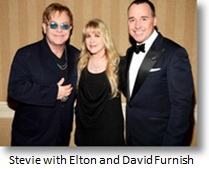 Stevie was the headliner at the Elton John's AIDS Foundation Gala in New York City. VIP guests helped raise $2 million for Elton's AIDS Foundation. Read articles about the event:
- Rolling Stone
- Vanity Fair
- Contactmusic.com
---
In Your Dreams Documentary
Stevie's In Your Dreams Documentary Premiered on October 7, 2012 at the Hamptons International Film Festival.
The second screening for the In Your Dreams Documentary took place Oct 12 at the Mill Valley Film Festival.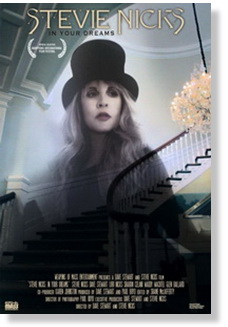 Stevie sings at Hamptons Film Festival
Stevie was on hand at the Hamptons International Film Festival where she answered questions from the crowd and sang medley of a few songs, including Bella Donna. Fans came to this sold out premiere screening of Stevie's new documentary In Your Dreams. An additional screening will take place at the Mill Valley Film Festival on October 12.
Read articles about the Documentary Screenings:
- Long Island Newsday
- WFJA
- NewsDay
- Hamptons.com
- South Beach Patch
- Danshamptons.com
- 27East
- press release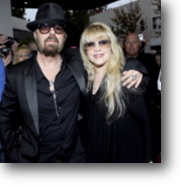 Mill Valley Film Festival
Stevie and Dave Stewart were present at the October 12th screening of the In Your Dreams Documentary at the Mill Valley Film Festival. You can see photos at Getty Images.
Interview about IYD Documentary
Read the October 4th interview from the Huffington Post about the premiere of the In Your Dreams documentary.
---
Charity Auction
Grammy Charity Online Auctions is auctioning off a framed magazine autographed by Stevie to benefit the Grammy Foundation and Music Cares Foundation. The Music & Musicians Magazine, dated May 2011, features Stevie Nicks on the cover. The item is up for bid on eBay. See more datails and bid on it at the auction page on eBay. Mojo Magazine
Fleetwood Mac is featured in the January 2013 issue of Mojo Magazine with a cover photo of Rumours. The magazine includes a Rumours tribute CD. See the cover at the Mojo Website. Sunset Sessions in Vegas
Stevie will be performing at Sunset Sessions Vegas 2012, where artists will perform to raise money for their favorite charities. See more details about the event.

Songwriters Hall of Fame
Stevie, Lindsey and Chritsine have all been nominated to the 2013 Songwriters Hall of Fame. Read the AP article about the nominations.

Stevie attends Premiere of Zeppelin Film
Stevie attended the promotion of the Led Zeppelin concert film "Celebration Day". The film had its United States premiere on October 9th at the Ziegfeld Theater in New York. Read the New York Times article.

RE/MAX Convention
Stevie was the featured artist at the 40th Anniversary RE/MAX R4 Party with a Purpose, February 28th, 2013 at the MGM Arena in Las Vegas. More details on the RE/MAX Facebook site.

Us Weekly
The US Weekly website has an article and video which discuss Stevie being one of music's biggest style pioneers. See the article and video.

Contestant sings "Landslide" on the Sept 24th episode of The Voice. [See Sightings page] Watch the video.

Elton John Foundation Benefit
Stevie headlined the Elton John's AIDS Foundation's 11th annual An Enduring Vision benefit show in New York City on October 15. See the RTT News site for an article about the event and visit ejaf.org for more details and ticket info.

Soldier's Angel
If you attended one of Stevie's concerts this summer you probably saw a list of organizations which support our injured military personnal and listened to Stevie's story just before she sang Soldier's Angel. Stevie feels strongly about helping our wounded servicemen and servicewomen, and we lists these links for those who wish to help as well.
- uso.org
- walterreedsociety.org
- woundedwarriorproject.org/

If you haven't heard Soldier's Angel, you can download the single or buy the album at the links below:
Soldiers Angel - single
In Your Dreams -album
---
Stevie's New Album Released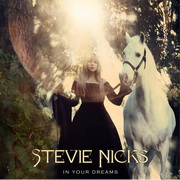 Check out the latest Stevie Nicks album In Your Dreams! In Your Dreams is produced by Dave Stewart and co-produced by Glen Ballard and features the tracks "Secret Love" and "Cheaper Than Free." Praised as "not just her first album in 10 years, it's her finest collection of songs since the Eighties" by Rolling Stone and "classic, classic songwriting" by Florence Welch from Florence and the Machine, In Your Dreams just might be Stevie's finest album yet. You can order it on Amazon.
See the album song list.
---
Stevie has written a letter to the fans about the album release. Read the letter.

IYD Trailer
Check out the trailer for Stevie's IYD ("In Your Dreams") on her YouTube Channel.

Twitter!
Visit the Stevie Nicks twitter page and say HELLO to Annabel Lee!
Twitter.com/stevienicks

Don't forget to stop by Stevie's Facebook page to interact with other Stevie Nicks fans and get the latest updates on the upcoming "In Your Dreams" album.
Facebook.com/stevienicks
---